My husband and I just finished a (planned) 2 week diet break and couldn't be happier to be back on track. As awesome as it was to go nuts at buffets, eat lots of bacon, drink bubbletea every other day, eat bags and bags of chips, and unlimited dessert, I actually felt disgusting after a few days. I was bloated, gassy, breaking out, and tired every day which was a good reminder of why I don't eat that way anymore! We are back on track starting this week...which is still awesome when you can eat things like the cake below as a regular part of your diet:
Moist, chocolatey, and guilt free.
I think the only downside to baking things is the waiting game.... waiting for it to bake, waiting for it to cool, waiting to take pictures of it before taking that first sweet bite.
Recipe adapted from food.com
INGREDIENTS:
makes 6 mini cakes and 6 whoopie pies
3/4 cup + 1tbsp whole wheat flour
1/4 cup cocoa powder
3/4 tsp. baking powder
3/4 tsp. baking soda
sprinkle of salt
60g agave nectar (or honey)
1 egg
1/2 cup skim milk
1/4 cup coconut oil, melted
1 tsp. vanilla extract
frosting:
4oz low fat cream cheese
30g chocolate chips, melted
2 tbsp skim milk
sweetener (optional)
DIRECTIONS:
Preheat oven to 350 degrees. Mix all dry ingredients together in a large bowl, then add wet ingredients and mix for 2 minutes using a hand mixer. Once batter is mixed well, add a 1/2 cup of boiling water and mix well with a whisk. Pour batter into greased muffin tin or mini cheesecake tin, there should be enough to put about 3tbsp of batter into 12 holes. Bake for about 12-15 minutes or until toothpick comes out clean. Frosting: Mix all ingredients together using a hand mixer, add sweetener to taste (optional)
Once cakes have cooled, slice off the rounded tops of the cake so they all have flat tops. Spread each top with frosting and pile one on top of another to make one cake. Add toppings of your choice. Take 2 cake tops and spread with frosting to make whoopie pies.
MACROS per 1 mini cake + 1 whoopie pie (not including toppings): 30g carbs, 5g fat, 1g protein.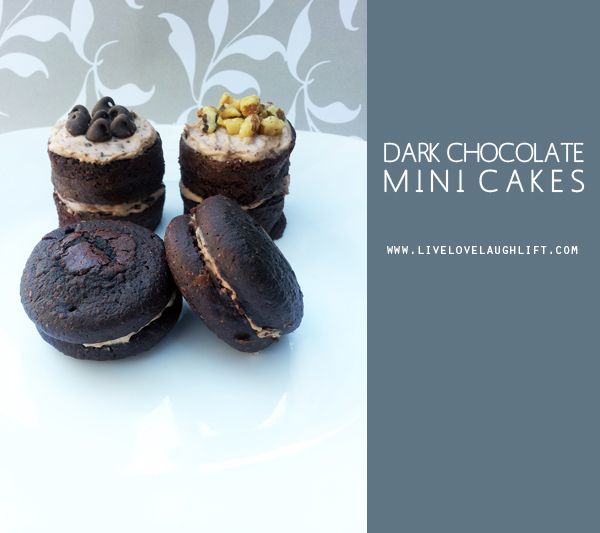 What's your favorite cake flavor?