Ever since I can remember, my friends have been asking me to join the
Vancouver Sun Run
each year and each year I have laughed and said "
No.
" Why would I pay to run when i can run outside for free on my own? This year was different though, as I wanted to run to support my father-in-law's health and fitness goals. I didn't train like crazy ahead of time (I think I only trained twice) but I also knew I wanted to at least try to run the whole 10km straight to see how I do.
The morning started off in a big crazy crowd in the heart of downtown. People of all ages, all races, and all fitness levels came together for this community event. The energy level was high with live bands playing on almost every street corner before the start line… some people were dancing, others were singing along, and everyone looked excited to be there.
BEGINNING OF THE RACE:
I started to get butterflies in my stomach the closer we got to the starting line. Could i really do this? Will i make it to the finish line without stopping? The first few km's were a breeze although a few km's in, the race route became narrow which meant that there was less space for runners to run. I must've ran a total of 11-12km just trying to weave through people who were walking, sightseeing, and taking selfies.
MIDDLE OF THE RACE:
Just before the 5km mark, there was a hill. I was warned about this hill before the race but I decided that I would not stop to walk or take it easy up the hill, so i sprinted. That was the first time I really felt tired and started to worry about making it to the finish line. I guess the organizers knew that at around this point is when runners may start to get tired or discouraged so this was when I started to see encouraging and funny signs:
"your feet hurt from kicking so much ass"
"run faster, i just farted"
"remember, you paid for this"
My toes were starting to hurt at this point and I really wanted to drink a ton of water but I also didn't want to have any "accidents" so i pushed on, my smile getting bigger each time I passed a km marker.
END OF THE RACE:
After the 9km mark, I distracted myself by planning what my "crossing the finish line" pose would be. Should I jump? Should I have an intense face? happy face? It ended up being a fail because I was expecting a balloon arch or something grand at the finish line but there was only a banner... so I didn't really know if that was the finish line or not, thus, i didn't have time to prepare my pose! This will do.
I clocked in at 1 hour and 12 minutes! Not amazing, but not bad for my first time and I'm proud to say that I didn't stop at all for the whole 10 km. It's true what they say about it being a mental game. I hope nobody noticed me pep talking myself because there was lots of that going on especially between the 7km to 10km mark.
"You can do it, Kym"
"Don't stop, Kym"
"One step closer to lunch, Kym"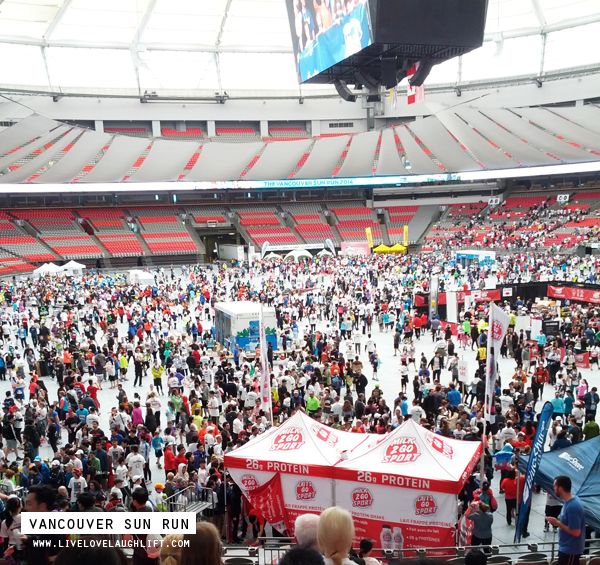 The race ended at BC Place with a live band and tons of food vendors set-up, giving away free food like chocolate milk, fruit juices, power bars, bagels, and fruits.
Would I do it again? Probably. As much as running is not my activity of choice, I want to see how much better I can do next year. And maybe next year, they'll still have bananas left at the finish line.