Ever since my husband told me about
2 ingredient pancakes
, I've been on a mission to recreate my favourite foods into something that's not only healthy but also ridiculously easy to make. One of the things I've realized is that eating healthy doesn't have to be boring, expensive, or hard to prepare - you just have to be more creative!
I used to always order yam fries with spicy dipping sauce at restaurants so it was perfect as my next experiment: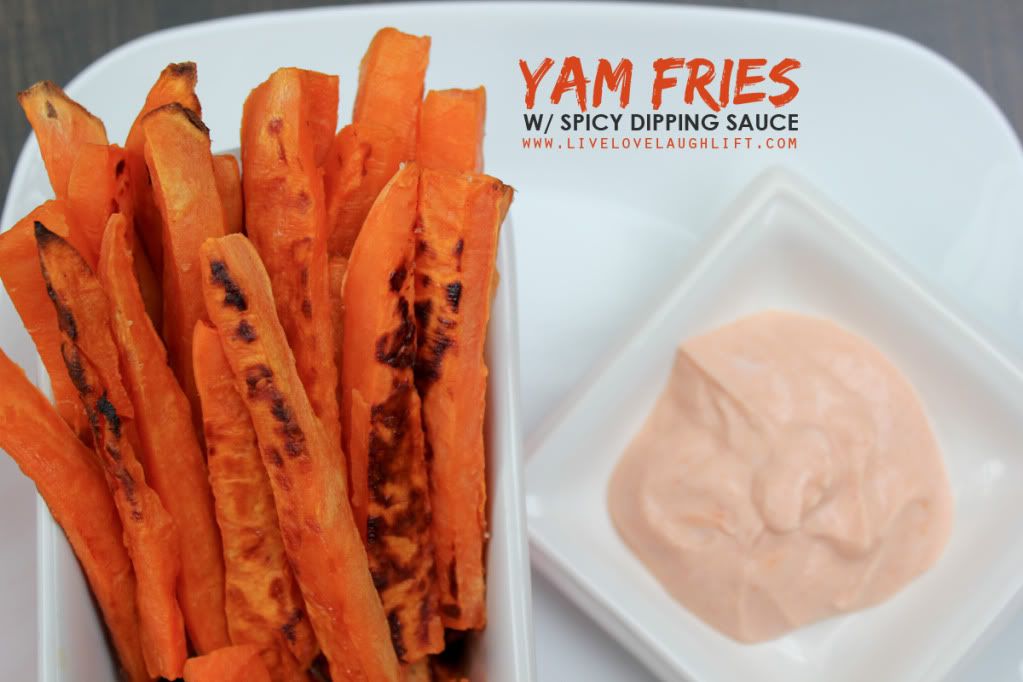 Ingredients:
1 large Yam
Plain, non-fat Greek Yogurt
Sriracha
Directions:
Preheat oven to 350 degrees f. Spray olive oil over a baking sheet.
Slice yams and arrange on prepared baking sheet in a single layer.
Bake for 25 minutes or until desired level of crispiness.
While yams are baking: Mix 2 tablespoons (40g) of plain, non-fat greek yogurt with 1 tsp of sriracha.
Adjust sriracha according to desired level of spice.
MACROS: 5g protein, 30g carbs, 0g fat

Simple, easy, cheap and delicious! This whole plate costed me less than $1, compared to ordering it at a restaurant for over $7 (don't forget tax + tip). Not to mention, a plate of sweet potato fries w/ spicy dipping sauce at a restaurant like
White Spot
contains approximately 7g protein, 82g carbs, and........
55g fat
!
Next time you crave yam fries, try this instead! :)